LA RISA. CRUSAIDER 30 FEET LONG
Catch a big one !!!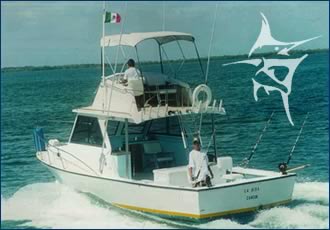 Our Captains with over twenty years of experience on local fishing and turbo diesel engines make the diference. We have the fastest boats that will take you to the allowed fishing sites wich are 25-30 miles from the coast.
Prepare yourself for a day of adventure in the Caribbean Sea. Aboard a ship, cruise about 35 miles from the shores and enjoy the art of fishing.
Deep sea fishing is a very rewarding experience for beginners, as well as for an experienced fishermen. Cancun offers some of the greatest catch you can imagine. The waters are full of differents species from the Marlin to the Barracuda.
All boats come with complete and very experienced crew and captain. Tours includes fees and permisions.