CANCUN AIRPORT TRANSFERS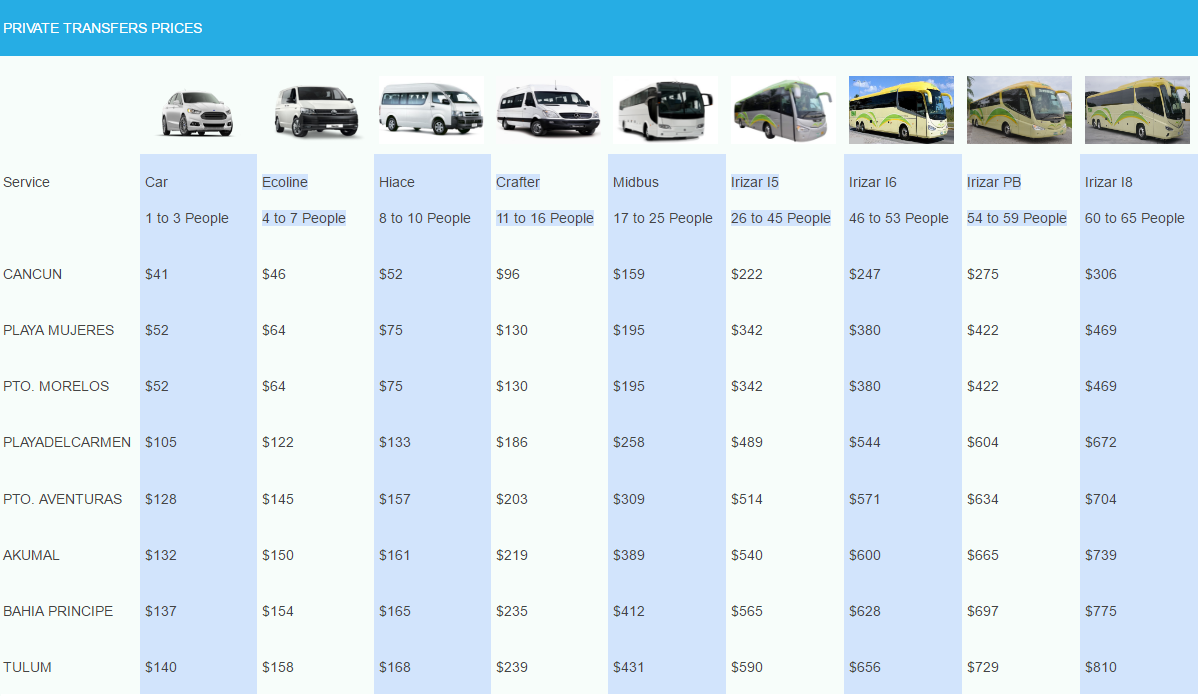 *All prices in US on One way trip
Cancun All tours offers you the widest variety of vehicles for Tourist Transportation and Private Transfers, from and to the Cancun International Airport to any hotel in Cancun, Puerto Morelos, Playa del Carmen and Riviera Maya that also includes Puerto Aventuras, Akumal and Tulum. , As well as any other destination that you require, in comfortable air conditioned vans for 7, 10 and 16 passengers and for large groups, Midi buses for 25 passengers and Luxury Buses for 45, 53, 59 and 65 passengers, equipped with air Conditioning, flat screens, DVR, DVD, STEREO sound, and bathrooms. We have more than 19 years of experience offering tourist transportation from Cancun Airport.
All our vehicles have the necessary permits to provide service at the airport and are operated by certified personnel, with Federal License, we have a flight tracking system so you do not have to worry about notifying if your flight was ahead or delayed, and prices already include all federal duties and taxes.
Quote writing a word of the name of your hotel here..

Pagina 1

CANCUN AIRPORT TRANSPORTATION FOR GROUPS AND CONVENTIONS
Cancun All Tours also offer Private Transportation for Groups & Conventions from the Cancun International Airport to Hotels in Cancun, Puerto Morelos, Playa del Carmen, Riviera Maya and any placeat the Yucatan Peninsula in comfortable luxury buses with flat screens, DVR, DVD & CD player and STEREO sound, bathroom with capacity for 20, 45, 53, 59 and 65 passengers.
RESERVATIONS:

To book just click on the reservation button, fill out the form with the requested information and pay securely online with your credit card through Pay Pal, in less than 24 hours you will receive your confirmation and the electronic Transfer voucher.

PROCEDURE UPON ARRIVAL AT THE AIRPORT

Upon arrival a Cancun All Tours representative will greet you at the exit of the Airport Terminal, right where all travel agency greeters are, and you will recognize him because it will bring a sign with your name on it,he will take you direct to the vehicle and right after the driver will take you directly to your hotel. If your flight is delayed, there is no need to tell us because we remain monitoring the flight and we will know at what time you will be arriving, unless you changed your flight number or route. The Cancun Airport has 3 Terminals, don't worry we will know where you will be arriving.

DEPARTURE PROCEDURE FROM HOTEL TO THE AIRPORT

At your departure transfer voucher you will have the pick up time from the hotel Lobby, please at the appointed time you should be ready with your luggage and check-out pass that is the slip that the reception will give you when you check out.

To assign the schedule of your departure we consider the time we will take from the Hotel to airport and the two hours before that the airlines ask you to be at the airport for domestic flights and the three hours before for international flights, but this does not mean that you cannot change your schedule output, if you want to do it, please contact us and we will gladly make the change.

OUR PRICES:

We offer fair prices and quality service, we are not the cheapest but the best and we assure you that our prices are lower by up to 40% that they would charge a taxi at the airport for the same vehicle and service.

INSURANCE:

All our vehicles are fully covered as well as our passengers during the transportation and also we are an authorized travel agency to give these transportation services

CANCUN AIRPORT

Cancun International Airport also known as " Benito Juárez Airport " is the second most use by tourists in Mexico , the first is the International Airport of Mexico City. The IATA airport code is CUN , ICAO code and is MMUNEl . Cancun International Airport is located 16 kilometers from the city of Cancun, and is considered one of the largest in the country. Cancun is in the state of Quintana Roo, and is the most popular destination principally from Mexico, United States, and Canada, as it is the most important tourist destination in Mexico and the Caribbean.

Cancun is located in the Yucatan Peninsula, Mexico. This beautiful paradise is part of the Mexican Caribbean. The tourist area is located on a narrow island in the form of the number seven, where the hotels are located facing the sea. In Cancun's hotel zone, you'll find a variety of excursions, tours and activities to enjoy your stay, as well as fun places such as nightclubs, discos, restaurants and a wide range of typical food and international cuisine , luxury malls and much more and best of all is that while you go on your private van transportation from the Cancun airport to your hotel in Cancun , you can admire the impressive one side with its amazing turquoise sea and the amazing hotels and on the other side the beautiful Nichupte lagoon.