About Cancun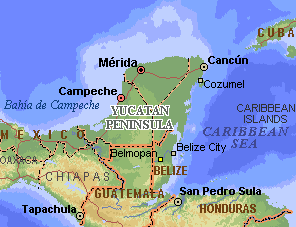 We would like to extend the most cordial welcome to our city. We are here to provide you wiht quality service and make
23 years ago, Cancun is located in Yucatan and was an unknown fisherman's village with only 117 inhabitants. Today, it offers deluxe modern hotels, a convention center; and two 18-hole golf courses one designed by Robert Trent Jones, quality restaurants, and shops. Cancun is located to one side of the northeastern end of Yucatan peninsula. 347 miles south of miami. Shaped like a "7", the island is 13 miles long and about a third of a mile wide. Cancun's location on the Yucatan peninsula makes it readily accessible to some of the most important Mayan archeological areas. ust an hour by air from Miami, nestled on the eastern coast of the vast, mysterious Yucatan Peninsula, Cancun is Mexico's number one tourist destination. The star jewel of the Mexican Caribbean is studded with luxury hotels, stunning beaches, and un-fathomably ancient Mayan ruins.

Created in the 70's, Mexico's youngest and most luxurious tourist destination sports a base population of 400,000 residents and with that a first-class infrastructure for Cancun's stellar hotels. Excellent weather, facilities, and the do-word of all premium resorts - location, location, location - means that visitors get the best services possible, not to mention the highest concentration of luxury hotels in the Caribbean, with jungles and ruins right next door.
Cancun is divided into two parts. The narrow 23-kilometer-long (14-mile) island section (Cancun Island) is lined with modern beachfront hotels surrounded by the Bahia de Mujeres (Bay of Women), the Caribbean Sea, and the Nichupte and Bojorquez lagoons. Each end of the boomerang-shaped islet is connected to the mainland by bridges, the southernmost connecting to the airport and the highway south. To the north, the bridge connects the Hotel Zone with Cancun 'Centro' on the mainland. 'El Centro' has colorful shops, restaurants and smaller hotels catering more to European and national tourism.

More than hotels and beaches, Cancun is packed with activities. Yet abundant marine life means excellent snorkeling, scuba diving, cave and wreck diving, watersking, jungle touring, parasailing, waverunnering - what's your wet thing? Fishing gets taken seriously. Bayside there's red snapper, bonefish, tarpon and sabana. Ocean-side finds sailfish, marlin, and yes, tuna especially in spring and summer. The obligitory pirate ships sail daily and nightly on booze cruises to Isla Mujeres. Were that not enough for the outward-bound there's world-class nightlife, and major-league shopping. For the less ma-ma-material, nature tours in immense biosphere reserves. And ruins; endless, mute, ooooh-producing monuments to the Maya. Chichen-Itza, Tulum, Coba, Kohunlich are the star cities of the ancients. Golfers will find challenging or beautiful 18-hole golf courses. Most luxury and first-class hotels sport tennis courts.

Cancun weather is friendly, with an average at 80° F (27° C). With an annual 240 days of sunshine, rain is rare. Beaches are almost 100% limestone outcroppings covered with Caribbean sand - comes from naturally processed shell and coral, so unlike quartz beaches to the north and the south, our sand stays cool even on the hottest of days.

Should you find youself hungering for quaint, rustic intamicy, you'll want to take a vacation from luxury and head for neighboring Cozumel and Isla Mujeres.
Customs
Customs regulations allow citizens of the United States to import $400.00 USD. worth of merchandise and 2 liters of liquor duty free. The Government of the United States will tax any additional purchases. Customs forms are supplied by airlines during flights to the United States
PurifiedWater
The city of Cancun, as well as the hotel zone, has a special water purifucation system. In addition to this each hotel has it's own purifying plant. Water from the tap is safe to drink, or if you prefer; bottled water can be found any place at your convenience.
Currency
The peso is the legal national currency in Mexico. However, American dollars are accepted in the majority of shops and restaurants. American dollars can be exchanged at banks and hotels at the daily conversion rate (exchange rate).
Time
Eastern Time (Cancun)
Clothing
Casual and seasonal attire constitutes the dress code in Cancun. Coat and tie are not necessary unless you wish to dine in one of the luxury restaurants, which do require semiformal attire. Beach clothing is restricted to the island and should not be used in town.
Electricity
110 volts A.C./60 cycles
Climate
The temperature ranges from 75-90 degrees year round with a 90% humidity level and more than 200 sunny days per year.