DOLPHIN SPLASH IN CANCUN, PUERTO MORELOS OR RIVIERA MAYA
At the Aquarium of Cancun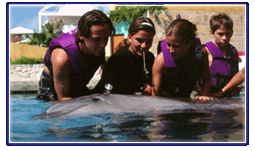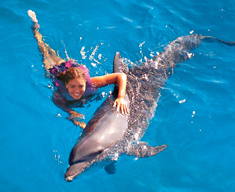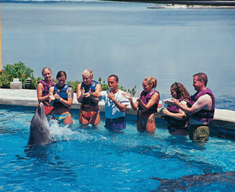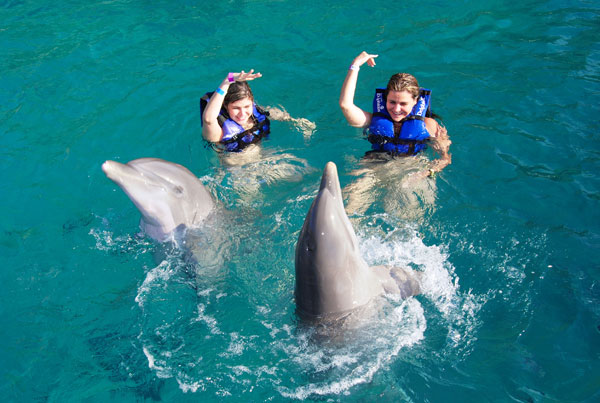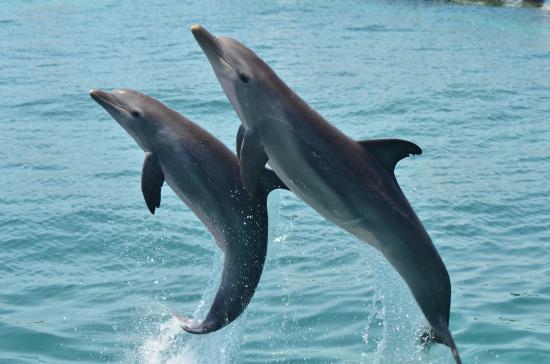 Come and have the best experience swimming with one of the most intelligent animals in the world.
The "Splash" program is ideal to spend 45 minutes on a platform with the dolphins to touch them, interact, receive a kiss, watch the free jump, practice the signs, among other activities while you know their physiognomy and the right way to feed them.
Requirements:
The admission is allowed to pregnant women, children and babies of any age. All participants must to pay the admission and they will receive life jackets, so it is not necessary to know how to swim.
All participants must be 30 minutes before the estimated hour on the program.
There is no minimum height for minors, everyone can participate.
Bring swimsuit, biodegradable sunscreen and money to buy the photos and video if you wish.
Does not include transportation to the aquarium in "Plaza la Isla".


Recomendations:

Light sportswear
swimming suite
biodegradable sunblock
Extra money to buy photos or video if you like

Please Remember:

Participants must show up an hour before the program.
Minimum height is 3.6ft. for the educational program
Otherwise participants must be accompanied by an adult.
Children under 1 are no eligible.
For the advanced program the minimum height is 4.3 ft.
The price for the videotape is 30 USD and 9 USD for the photographs.
Our programs are not recommended for women with more than 2 months of pregnancy.
If your Swim is in Cancun it will include the entrance to the Aquarium:


Tour Includes:

Entrance to the aquarium
Dolphin Splash program
Towels
Lockers
Showers and dressing rooms.

 

Not includes:

Round trip Transportation Hotel - Dolphinarium - Hotel (THE ASSIGNED DOLPHINARY WILL BE THE NEAREST TO YOUR HOTEL)
It has a cost of $ 10 USD and is paid at the time of registration.
foot push, Dolphin ride, photographs, DVD, souvenirs.



Departure Days:
Monday
Tuesday
Wednesday
Thursday
Friday
Saturday
Sunday


Departures:
10:00 am
12:00 pm
3:00 pm
4:00 pm