JOLLY ROGER THE LAST PIRATE NIGHT
Exclusivity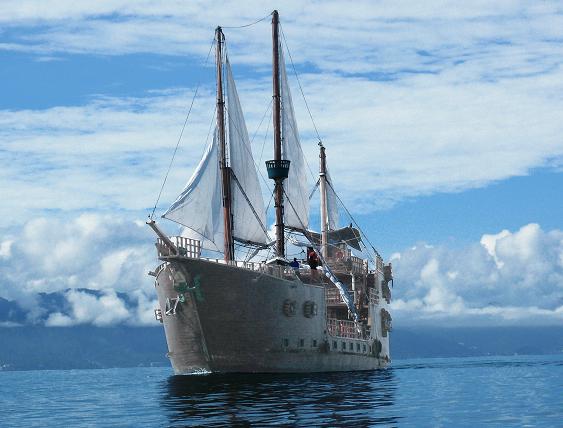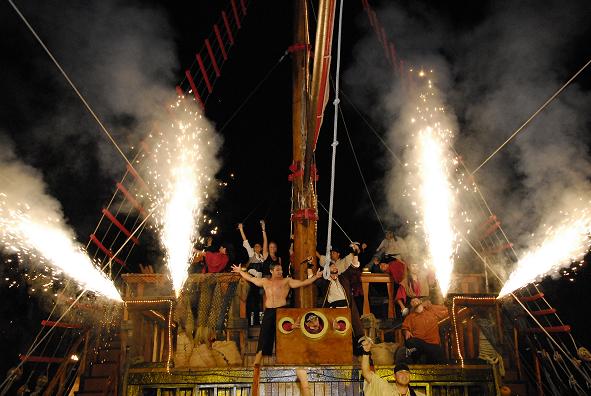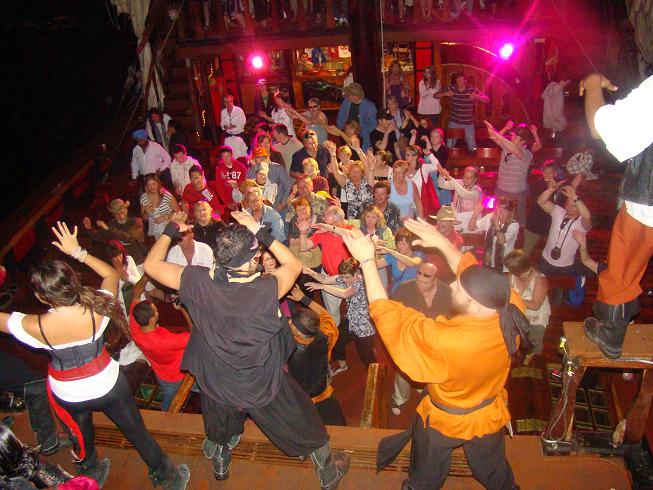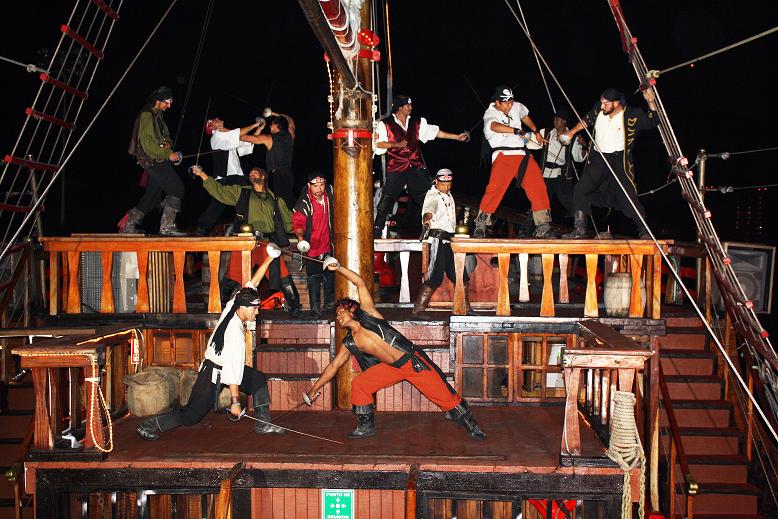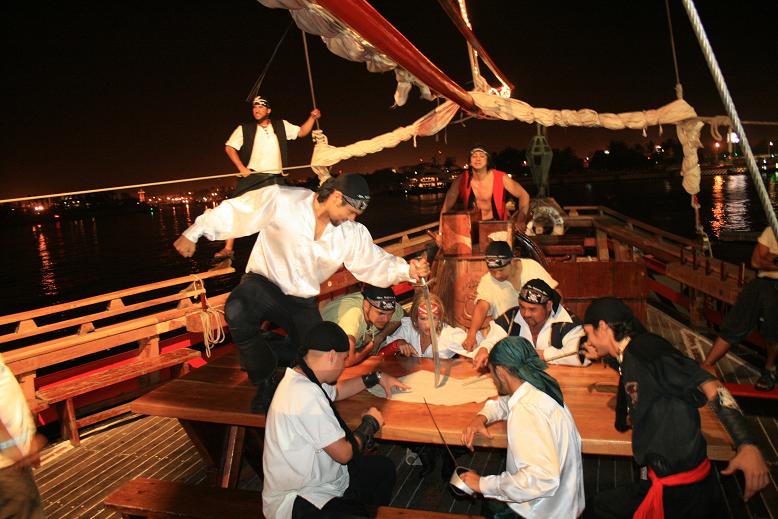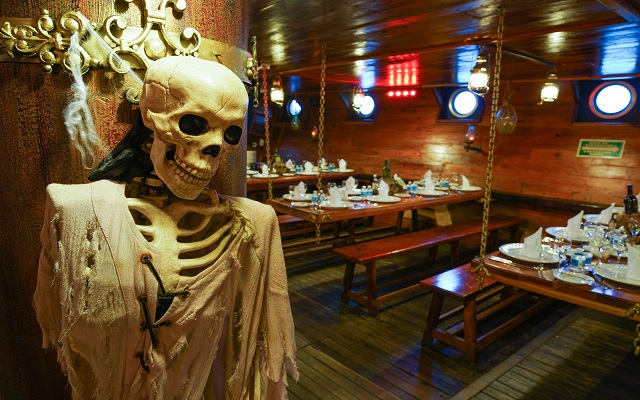 Enjoy a spectacular battle between Pirates in the Caribbean Sea, where the clash of pirates swords, sliding down between strings, bombing with cannons and explotions, to make you feel part of this amazing show, sailing aboard an impressive Galleon, where you can enjoy a delicious dinner accompanied by a buffet with different dishes, and last but not least, little younger pirates will be amaze with our special Pirate kids menu.

Itinerary: "The Last Pirate Night"

• Our customers will arrive at Playa Linda Pier at 5:30 pm. Our crazy pirates will start the evening with a bunch of activities. The appointment is 30 minutes before sailing.
• We will leave punctually 6:30 pm with a fun pirate show cast for fun activities and contests.
• Funny contests with a pirate style.
• Our customers will enjoy a delicious dinner.

JOLLY ROGER DE LUXE MENU
*Combination of grilled lobster tail and filet mignon accompanied with your choice of caramelized onions in red wine or pepper sauce.
* Lobster tail with a touch of butter with garlic accompanied by a pinch of paprika. .
* Lamb ribs grilled with white wine, chayotes and mustard sauce.
* Mahi Mahi fish roasted with lemon and chayote sauce.
* BBQ pork ribs.
* Coconut shrimp accompanied with spicy mango sauce (non-spicy sauce option).

Chicken breast in Teriyaki sauce with a pinch of sesame.
New York steak seasoned Montreal style.
Grilled salmon bathed in sweet mustard sauce.

VEGETARIAN OPTION

Grilled portobello mushrooms stuffed with a fusion of onions, celery and camembert & parmesan cheeses.
Cannelloni stuffed with goat cheese accompanied with a tomato sauce.


CHILDREN´S MENU
* Hot Dogs or nuggets and French fries



DRINKS

We have drinks like: XX Lager Beer, Zacapa Rum, Tequila Don Julio Blanco y reposado, Smirnoff X1, Tanqueray London Gin, Buchanan's deluxe and Johnnie Walker Black and red label Whisky, Unión Uno Mezcal Cabernet Sauvignon and Chardonnay Wine.



MUSIC

• Programmed music and light effects will be waiting for passengers to enjoy with the family and friends while Pirates make mischief for fun.


SHOW

• After dinner our main attraction "The Pirate Show" will start with a fearsome Captain pretending to be a fool drunk during the tour, he gets his boat causing an impressive battle full of action and special effects, where the clash of swords look with acrobatic fights pirates, and fireworks light up the course by the waters of the Mexican Caribbean.
• This tour ends on the outbreak holiday, returning to Playa Linda pier at 8:00 pm. or at 11:30 pm. depending on the time of departure chosen by the passenger.

This adventure is not carried out in any hotel or with any island, takes place aboard our galleon where a group of crazed pirates offer you the best entertainment and an excellent service.

Everything is ready to enjoy the most amusing night of your vacation in Cancun. Just make your reservation with your sales representative. Prepare yourself. When you join us, you must be willing to die of fun!






Recomendations:

Light sportswear
Walking shoes
Camera
$11 USD per person in cash to pay the Dock Fee


Tour Includes:

Party atmosphere and family entertainment.
Three and a half hours open bar.
Delicious Dinner of your choice.
Pirate Kids' menu available.
The Pirate Show is spoken in english and spanish.

Not includes:

Dock Fee.


Optional suplements:


Departure Days:
Monday
Tuesday
Wednesday
Thursday
Friday
Saturday
Sunday


Departures:
6:00 pm