ROYAL GARRAFON AND DOLPHIN ENCOUNTER
DOLPHIN ENCOUNTER + GARRAFON PARK ALL INCLUSIV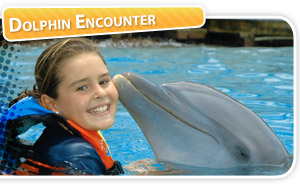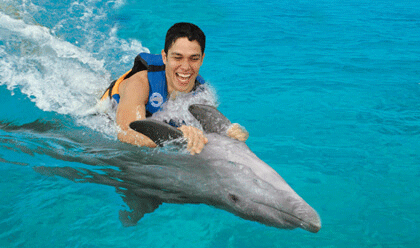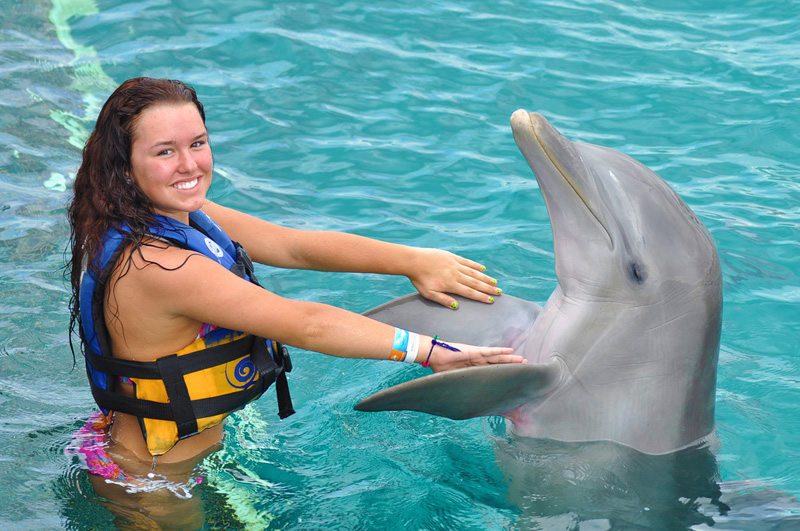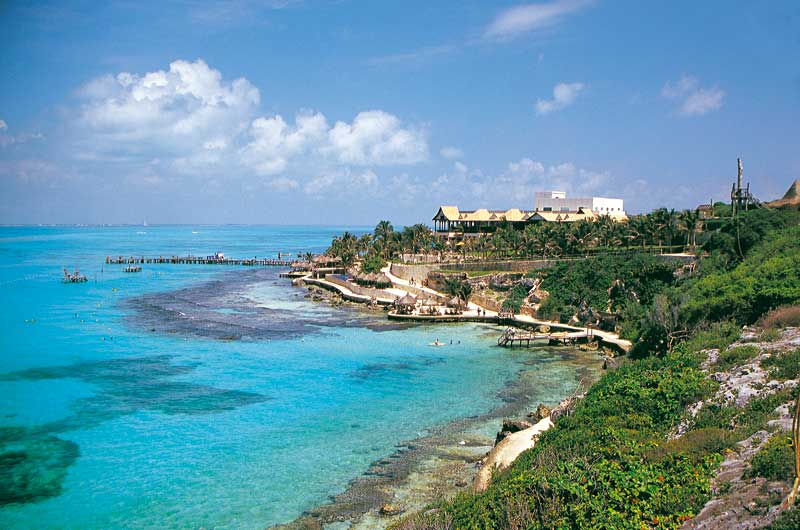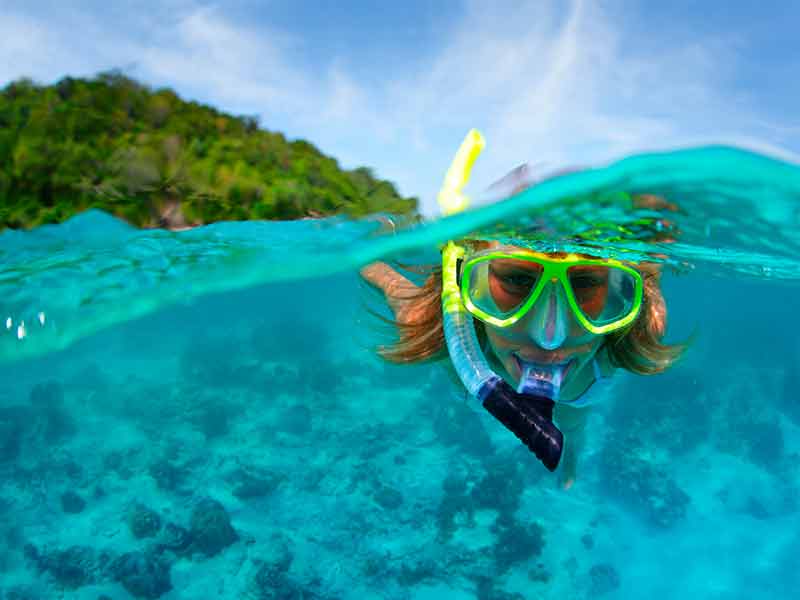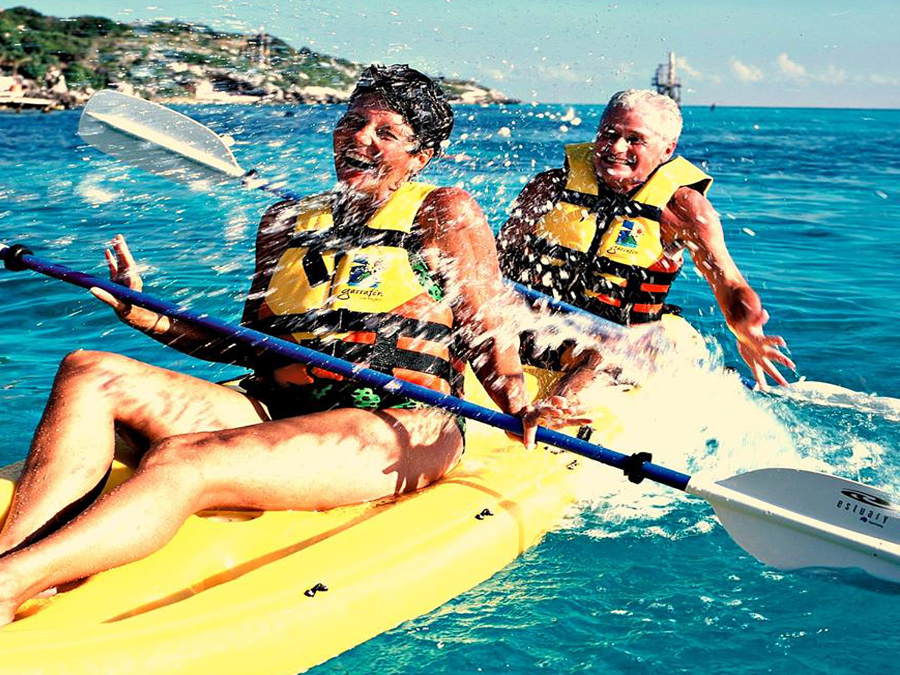 Dolphin Encounter at Isla Mujeres + Royal Garrafón VIP
A program for all ages: Learn and have fun!
We depart from the Cancun pier (near your hotel) in a comfortable boat to cross to Isla Mujeres (50 minutes boat ride) Arriving to the Dolphinarium the guide will take you to the Dolphin Encounter program, in here, you and your family will have the opportunity to receive all the affection from dolphins, these tender animals that always seem to smile. In this swim with dolphins program, your kids will be able to enjoy safe and fun activities has specially designed for all ages. Doesn't matter if you are 1 or 80 years, you will be able to enjoy from a platform that will cover half of your body and swimming is optional. Your new friend will give you unlimited love, he will give you a Handshake, he will sing and dance, you will be able to pet him and swim in a place that dolphins call "home": the Mexican Caribbean.
The Dolphin Encounter program in Isla Mujeres includes the sea round trip Cancun - Isla Mujeres - Cancun
During this program in Isla Mujeres, the dolphin will give you a Handshake, Hugs and Kisses, they will sing and you will have free time to enjoy your new marine friends.
After your incredible Dolphin Encounter program you will be able to enjoy Garrafon Reef Park at Isla Mujeres, known for its natural beauty and incredible outdoor activities. This amazing ecopark has something for all family members: kayaking, biking, hiking, flying on a zip-line. Come and experience all that Garrafon Reef Park has to offer and create amazing memories that will last a lifetime.
Garrafon Reef Park is the pride and joy of Isla Mujeres—a park that combines relaxation with adventure all set upon the most spectacular views of the Mexican island. Imagine having the blue Caribbean Sea as your playground for the day. Enjoy snorkeling in the second largest barrier reef and be amazed by the abundant and colorful sea life that you can see. Feel the rush of flying across the Mexican Caribbean in the only zip line that crosses the ocean. After all your activities, recuperate your energy with a delicious buffet lunch. Grab your favorite drink and have a seat in one of the lounge chairs or hammocks and take in the most beautiful blues you've ever seen.
Schedule: Garrafon Park is open every day from 9:00 am to 5:00 pm.
Heights
Adults (+1.41 mts):
Kids (1.21 – 1.40 mts):
Infants ( 0 - 1.20 mts )
* Kids must swim with a paying adult as a companion.
Behaviors:
Handshake
Hug
Kiss
Hand target (dolphin jumps towards your hands)
Games with balls and other playing toys
Dancing
Free time with dolphins
IMPORTANT:
THE PRICES OF CHILDS AND INFANTS ARE CONSIDERED BY THE STATURE STAYING IN THE FOLLOWING WAY:
Since it adjusts the lifejacket to 1.20 meters high, it is considered infant and will be FREE. These must be accompanied by 1 adult. In case of being 1 infant and 1 child must be accompanied by 2 adults
From 1.21 meters to 1.40 meters in height, it is considered child. These must be accompanied by 1 adult
From 1.41 meters high, you are considered an adult.


Recomendations:

Light clothing
Swimwear
towels
Comfortable shoes
Hat
Camera
Biodegradable sunscreen


Tour Includes:

Round boat trip Cancun - Isla Mujeres - Cancun, departing from Pier in Cancun Hotel Zone.
Continental breakfast
National open bar
Lunch buffet at Garrafon Reef Park.
Kids 0 - 1.40 mts swim with a paying adult as a companion. Kids older than 8 y.o. can swim on their own. Kids 0-1.20 mts y.o get free entrance to the Park but pay the program Dolphin Encounter fee.
15 min Briefing and 40 min in the water.
During this program in Isla Mujeres, the dolphin will give you a Handshake, Hugs and Kisses, they will sing and you will have free time to enjoy your new marine friends.
Snorkel equipment, life jackets, kayaks, hammocks, pool, and showers.
Lockers.

Not includes:

DOC TAX $ 12.00 USD PER PERSON



Departure Days:
Monday
Tuesday
Wednesday
Thursday
Friday
Saturday
Sunday


Departures:
10:30 am
3:30 pm