TOUR TO ISLA MUJERES BY BOAT BASIC PACKAGE
A full day of fun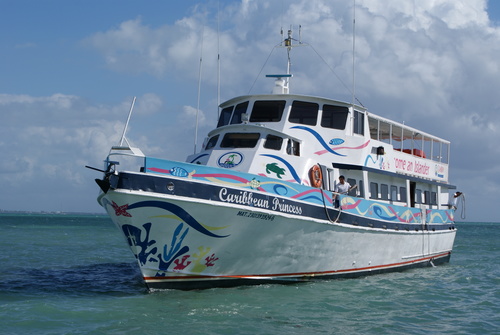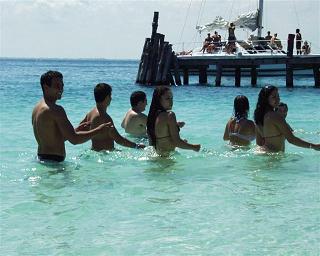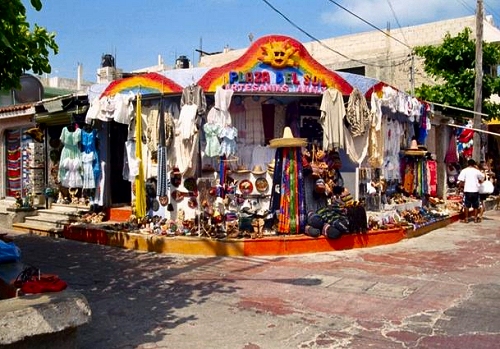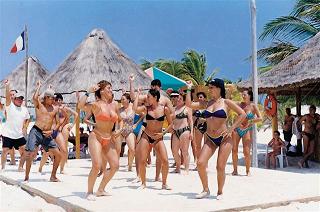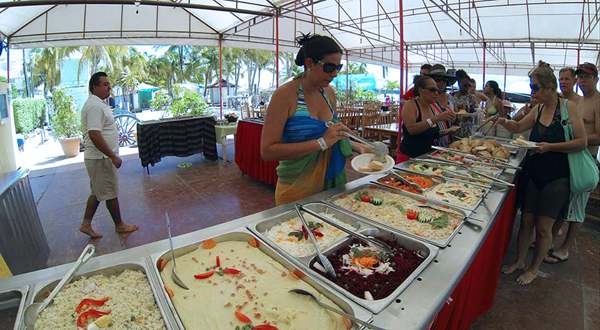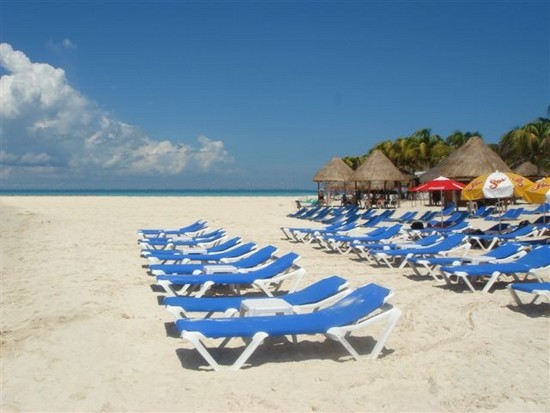 Welcome aboard the boat to Isla Mujeres, our departure is at 10:00 am. On board of the boat, you can enjoy a continental breakfast (coffee, orange juice and sweet bread) in addition to the national open bar (breakfast and the open bar is only on board).
During the way to Isla Mujeres, you can admire the beautiful Caribbean Sea and the beautiful view of our island. Once in Isla Mujeres we´ll sail into the beautiful beach "Playa Norte". Here you can use the facilities such as beach chairs, umbrellas, restrooms and showers.
Also it includes a lunch buffet (salad bar, pasta, rice, meat, chicken, fish, bread, chips and fruit) as well as the open bar during lunch.
Likewise, you´ll have free time to enjoy the optional activities of the tour:
• Historical Stroll (free). Near to our beach club is the center of Isla Mujeres where you can buy hammocks, souvenirs, shirts, handicrafts, etc.
• You can take golf carts to take the tour (extra charge) to visit the whole island in a fun way, with identification (the cost is approximately $ 25 USD per car for 4 people)
• The snorkel Tour (extra charge) departs from 11:45 a.m. to 12:45 p.m. offering the visit to the national aquatic park "El Faro" to swim and snorkel around 1 hour for $ 11 USD per person, plus $3 USD of the reef conservation tax. The tour includes snorkeling fins, mask, snorkel tube, life jacket, guides and tour boats to visit the park. Or if you prefer, you can stay to enjoy the beach.
The return to Cancun will be at 4:00 pm while you enjoy a big party aboard the ship.
Itinerary:
10 a.m.
Departure from Cancun to Isla Mujeres. Breakfast and open bar on the boat.
11:30 a.m.
Arrival to Isla Mujeres to the beach club "Playa Norte" with available facilities (umbrellas, chairs, bathrooms and showers) and a light lunch (pasta, fruit and a cookie). You can also enjoy the optional activities.
1:00 pm
Food (salads bar, hot dishes, variety of main dishes and desserts).
Mood music during meals
4:00 pm.
On the way back to Cancun, aboard the ship, we will enjoy a big party.
5:00 pm.
Arrival to Cancun.
Note:
All passengers must pay the $ 5 USD dock tax per person which must be paid directly at the dock. Children under age 5 attend for free.


Recomendations:


Comfortable shoes and clothes
Sunglasses
Hat or cap
Sun protection
Swimming suit
Towel
Extra money


Tour Includes:


• Continental Breakfast (coffee, orange juice and sweet bread).
• Open Bar aboard of the boat.
• Delicious lunch Buffet 
• Open Bar during the lunch time.
• Beach club with lounge chairs, umbrellas, hammocks and showers.
• Beach activities, aquaerobics, music, dancing, beach volleyball.
• On the way back to Cancun, enjoy our fun party with music, dancing, contests and open bar aboard. 

Optional services with (extra charge)
• At the beach, you can book the optional activities like a snorkel tour or Island Bay tour.


Note:
Bring extra $5 USD for the federal tax (not included) which has to be paid at the check in time in the tour.

 




Departure Days:
Monday
Tuesday
Wednesday
Thursday
Friday
Saturday
Sunday


Departures:
9:30 am