TOUR TO ISLA MUJERES BY BOAT CLASSIC TOUR
A full day of fun!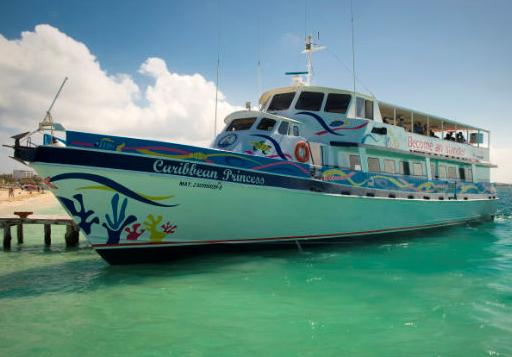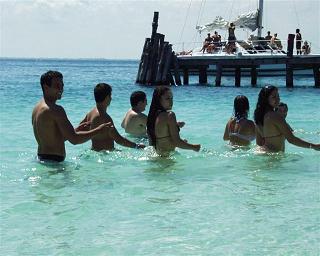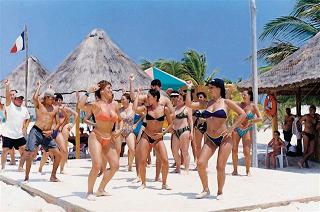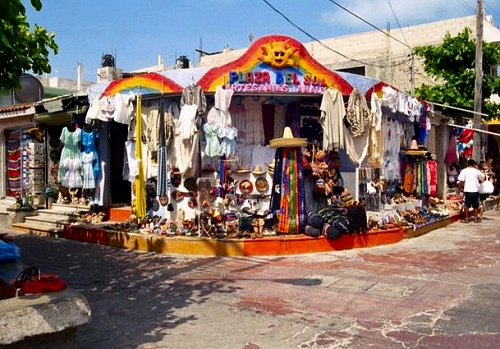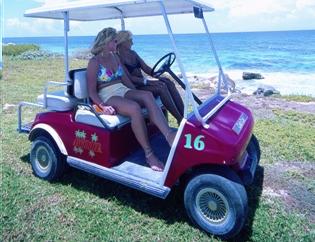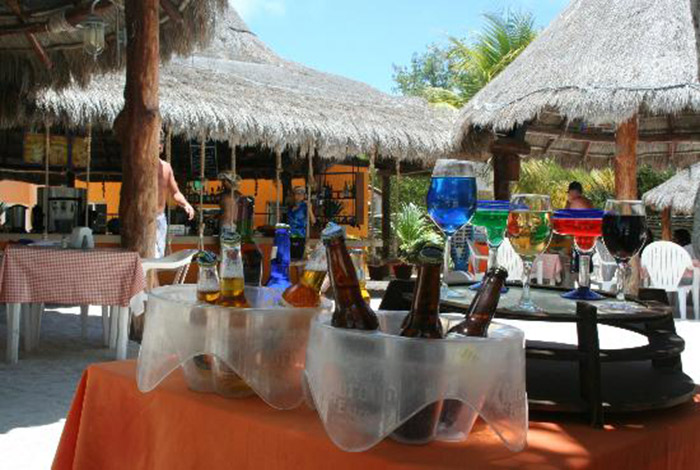 Welcome aboard the boat to Isla Mujeres (Women Island), the departure is at 10:00 am. Aboard you will enjoy of some coffee, cookies and open bar all day (on the boat and in Isla Mujeres) It will take approximately of 45 minutes from Cancun to Isla Mujeres while you enjoy a nice view of the beautiful Caribbean Sea. Then we will arrive at "Playa Norte" that is considered the best beach with calm waters. Here you will admire the Caribbean atmosphere and its beauty. And is right here were we stop to go to our beach club with all the facilities such as lounge chairs, hammocks, showers, umbrellas, restaurant, restrooms and this is located two blocks from Isla Mujeres downtown
On the tour you have included a delicious lunch buffet of: fish (tikinxic style), grilled chicken, rice, beans, pasta, vegetables, salad bar, fruit and desserts.
You also have included free time to enjoy serveral activites to do such as:
• Beach activities (aquaerobics, dance, volleyball, etc.)
• Guided tour to downtown Isla Mujeres for sightseeing and shopping. This downtown is a traditional fishermen village but also have great places to buy mexican suvenires and handucrafts such as hammocks, t-shirts, seashells, etc.
• Snorkeling tour to best coral reef of Isla Mujeres is available with extra cost, and two departures at 11:45 and 12:45. The snorkeling tour last one hour and this reef is a national underwater park where you can see hundred of multicolored fish and marine life. The snorkeling tour includes the fins, mask, life vest, snorkel tube, snorkel guides and the boat ride. But there is a reef conservation tax of $3 usd per person to visit the "El Faro" national park.
• There is an optional Golf Cart Tour (recommended) to visit the whole island in a fun way. For this you need an ID and cash (the price for the tour is $25 usd per cart for 4 people)
Or if you preffer you just can stay on the beach to enjoy the sand and the water.
And at 4:00 pm we will aboard the boat again to go back to Cancun to arrive at 5:00 pm. On the way back we will make a party with music, dance, animation and of course open national bar.
Schedule:
10:00 am – 11:00 am
Departure from Cancun to Isla Mujeres. Breakfast and open bar
11:00 am – 1:00 pm
Arrival to Isla Mujeres in our beach club "Playa Norte", open bar and facilites (umbrellas, lounge chairs, restrooms and showers) and free time to enjoy of all the activities on the beach or the snorkeling tour.
1:00 pm – 2:30 pm
Lunch buffet with music
2:30 – 4:00 pm
Time to enjoy the guided tour though out Isla Mujeres, downtown or if you prefer the Golf cart tour (extra charge).
4:00 pm.
Return to Cancun with a great party
5:00 pm.
Arrival to Cancun
Note:
All passengers must pay $4 usd per person of the dock fee and this has to be paid directly in cash at the check in. Children under 5 years old are free.


Recomendations:

Light sportswear
Swimming suite
Towels
Walking shoes
hat
Camera
Suntan lotion


Tour Includes:


• Shuttle boat
• Light Breakfast (Orange juice and sweet bread)
• Domestic open bar all day long
• Snacks on the beach (Hot Dogs and Hamburgers)
• Lunch buffet (Salad Bar, Pastas, Rice, beans, Chicken, Beef Fajitas, Fish, Bread, Tortilla chips and fruits).
• Beach activities (Volleyball, Limbo, Aqua Aerobics, dancing, etc )
• Walking tour to downtown Isla Mujeres and time for shopping
• Fun party in the way back

Note: Does not include $5.00 USD per person Port Fee and you have to pay in cash at check in time. • Snorkeling tour available with extra cost and you will have to pay the same day of the tour




Departure Days:
Monday
Tuesday
Wednesday
Thursday
Friday
Saturday
Sunday


Departures:
9:30 am