ISLA MUJERES - SNORKEL AND GOLF KART TOUR
Live this incredible experience !!!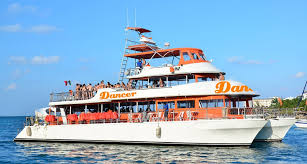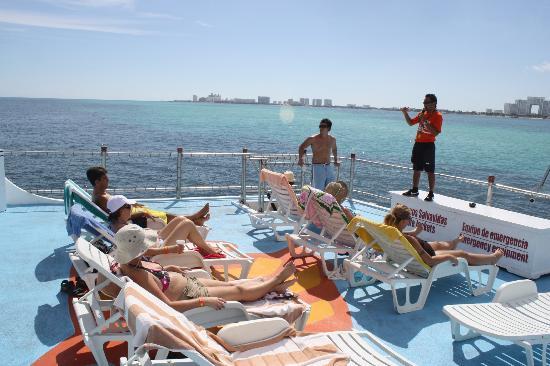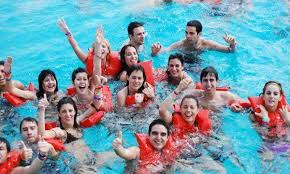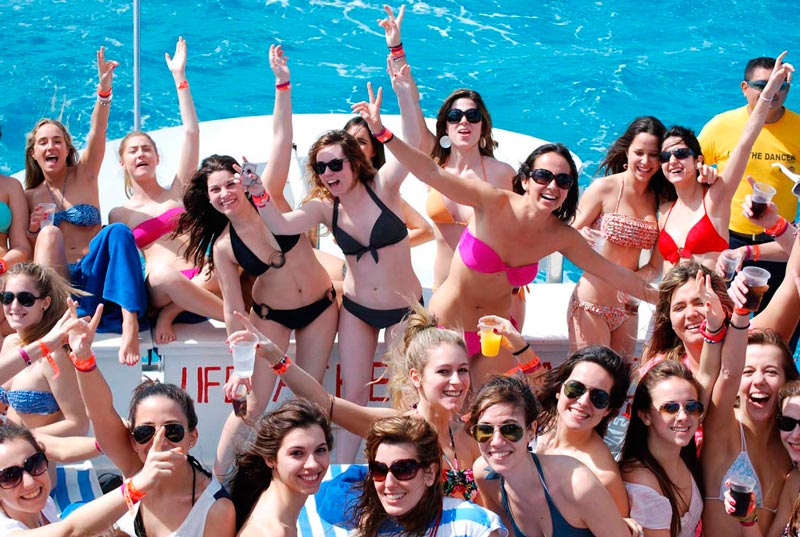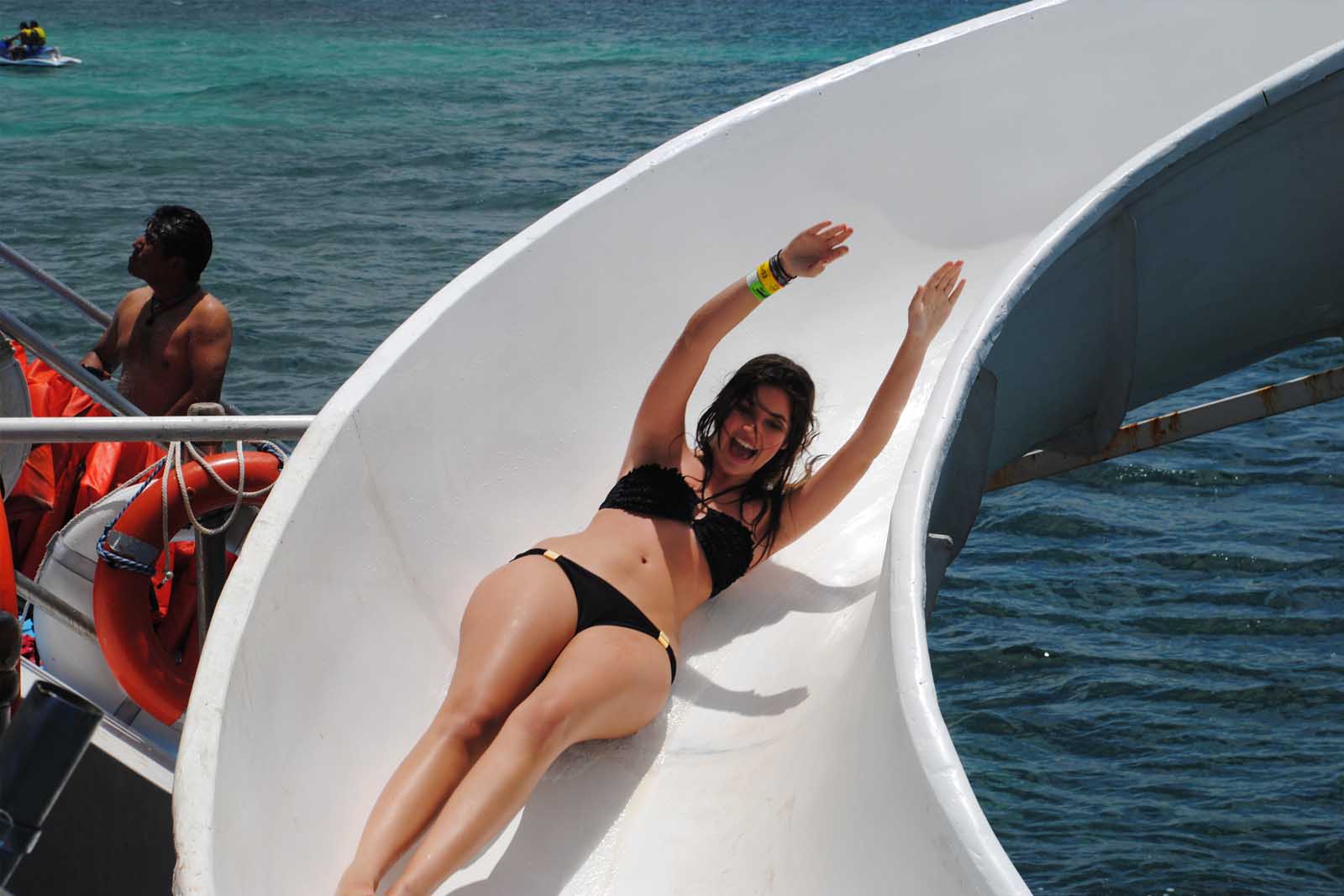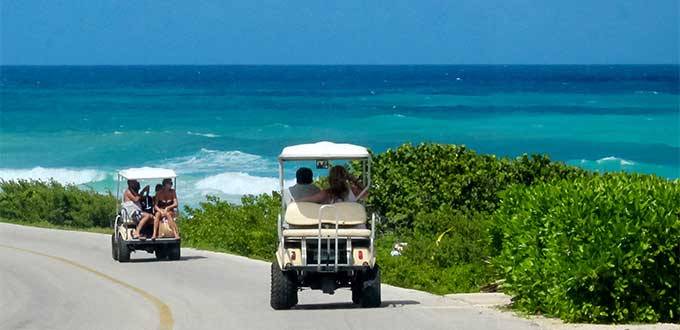 From the moment you first step on board you will be impressed by the friendly Welcome by Dancers smiling staff, and shocked by the style , size, cleanliness, colours, and comfort of Dancers facilities.
You will immediately know that you have made the right choice by picking Dancer cruise to spend your important day.
We depart from Cancun at 9:30 am and sail for an hour to our dock at El Meco (tiny Mayan archaeological site), On the way you can relax and enjoy a continental breakfast (juice, coffee, and sweet rolls) while admiring the colourful waters of the Caribbean.
We offers the world´s first organized tour of the ancient Mayan ruins of EL MECO. The ruins were re-discovered during 1992 and opened to the public in 2002. Choose dancers hour long guided comedy walking tour of EL MECO. View 350 years old trees growing over structures, iguanas sunning on the temple walls, and laugh at our Mayan costume dressed tour guides a funny presentation of the ruins history and Mayan culture.
If you dont want to see EL MECO, then you can choose to stay aboard boat taking salsa lessons provided by our expert staff. Or for those not wanting to dance, then they can relax sun tanning on the second deck in comfortable lounge chairs. Those preferring shaded areas can sit on board while enjoying the bay and a cold drink.
After visiting EL MECO we will aboard the boat to visit our marine secret reefs. We anchor in Cancun bay where we called our private reef club. Once we are ready, let our staff find provide you with your snorkeling equipment (masks, fins, tubes, and life vests) as you prepare to snorkel. We can take you an underwater picture during our guided snorkeling tour of two reefs fulled hundreds of colored tropical fish and various forms of live coral.
For those who don´t want to snorkel, then enjoy our private reef club, swimming, showing off your skills diving from our exclusive diving board located on the lower deck, or taking your picture while slipping and sliding into the bay from our long winding water-slide located on our second floor deck.
Dancers diving board, water-slide and reef club are on our CRUISE
For those water-shy individuals, you can relax in the shade, or fan from our lounge chairs while being pampered by our staff.
Another exclusive service that we provide is our "fresh water shower" for those returning from snorkeling, swimming, diving or sliding into the bay. Our boat has wide stair wells allow for easy re-entry aboard after swimming.
Next stop will be at Isla Mujeres where we will stay for 2 hours, but on the way we will sail to along Isla Mujeres and you can enjoy our delicious lunch prepared on board by our chef.
From Isla Mujeres cherish the most comfortable, fun and entertaining trip to Cancun pier, while super friendly and funny staff starts a great party onboard and brings out wigs, funny hats, and party props. This allows each willing soul to dance to the music provided by our fantastic sound system and DJ. Laugh at the styles and performances of the animators, and have fun partying.
On the return to Cancun you may alternatively choose to relax and enjoy an hour of calm atmosphere from dancers upper decks, where the same excellent service is provided under a soft music environment, sunbath in lounge chairs, pose for photos, and enjoy conversation in the breeze and beauty of Cancun bay, while quenching your thirst with a cold drink
For those that have had enough sun for one day, relax and enjoy the sights and ocean breeze sitting in Dancers shaded table areas. Purchase a dancer cap or "I did the Dancer" t-shirt to high light the experience. Dock at Cancun pier by 4:30 pm.
Departures MONDAY, WEDNESDAY AND THURSDAY


Recomendations:

Light wear
Bathing suite
Towel
Comfortable shoes
Money for shopping
Camera
Hat

VERY IMPORTANT NOTE

As of May 6, 2019, the child price will be considered by the measure and not by age.

INFANTS: UP TO 90 CM WITHOUT COST
CHILDS: FROM 91 CM TO 1.20 MTS.
ADULTS: FROM 1.21 METERS


Tour Includes:
• Open bar (rum, tequila, vodka, beer, cocktails, sodas and juices. 
• Continental Breakfast (Juice, coffee and sweet rolls)
• Lunch onboard:  Fish ceviche, beef and chicken fajitas, salad, rice and guacamole. (prepered at the moment for our cheff)
• Dive board, waterslide, lounge chairs onboard
• Clean and comfortable rest rooms.
• Visit to EL MECO Mayan ruins
• Snorkel equipment (fins, mask, life vest and snorkel tub) and Snorkeling tour in beautiful coral reefs
• A visit to Isla Mujeres for 2 hours (shopping and sightseeing)
• DJ
• Party on the boat form Isla Mujeres to Cancun

Note: Bring $12 usd per person for the federal pier tax (not included in the price of the tour). 


Optional:
• You can rent a golf cart to drive arround Isla Mujeres (bring your drivers licence).




Departure Days:
Monday
Wednesday
Thursday