CATAMARAN TOUR TO ISLA MUJERES
A full day of fun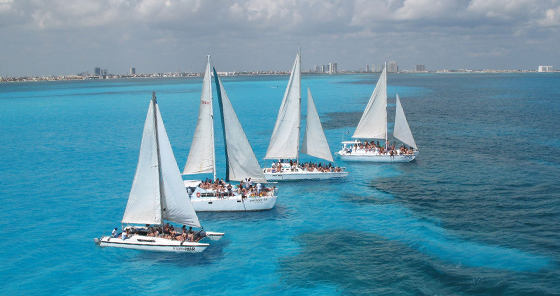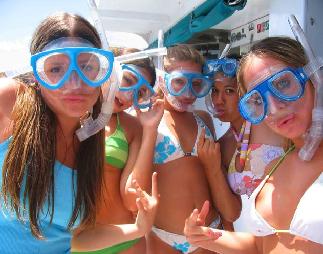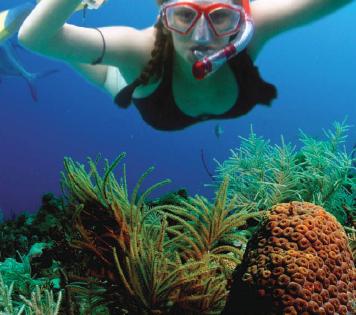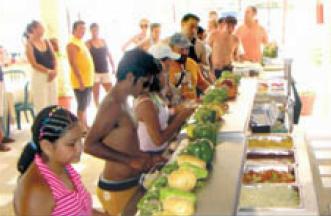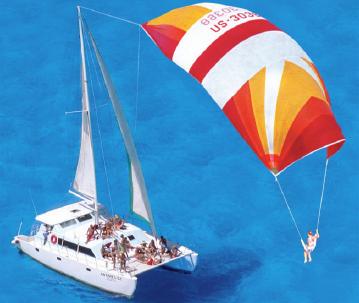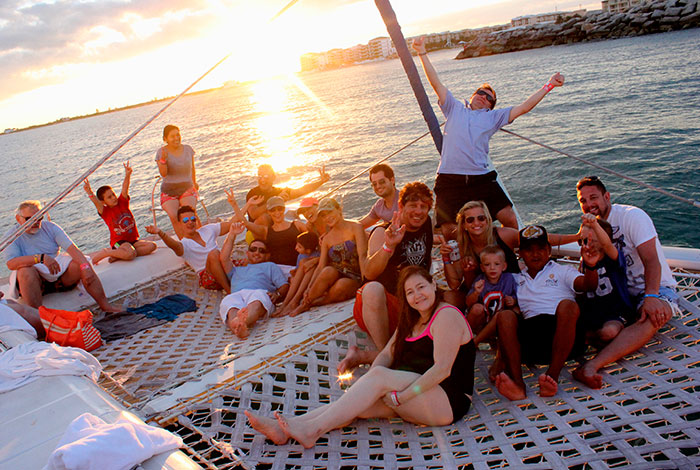 Come and enjoy a day full of fun and quirky Mexican atmosphere on the Isla Mujeres tour aboard on a sophisticated catamaran. Our tour departs from Cancun at 10:00 am. Once in the comfortable catamaran, you can enjoy the national open bar (juices, sodas, beer, tequila, vodka and rum) as well as the sun, music, wind, and the turquoise water of the Caribbean Sea. It will take 45 minutes to cross to Isla Mujeres, while you admire the different shades of blue that this beautiful sea gives us. Enjoy the friendly atmosphere aboard the catamaran or just lay back and enjoy the relaxing sun and wind on your skin. You can also take some snorkeling lessons to be prepare for the adventure of Isla Mujeres.
After 45 minutes, we stop at the National Marine Park "El Farito", where you will have time to swim and snorkel in these beautiful coral reefs (accompanied by our guides) and see the underwater world full of multicolored tropical fish, as well as the most impressive reef. We'll spend 45 minutes approximately in this place. If you do not want to swim or snorkel, you can stay on the catamaran enjoying the tropical landscape.
After that, we will go to our beach club on Isla Mujeres where you will enjoy a delicious lunch buffet in the restaurant with salads, rice, beans, beef fajitas, chicken fajitas, fish, pork and fruit. The lunch lasts approximately one hour.
Then, we visit the Isla Mujeres downtown for shopping and pictures. This is a typical fishing village, where you can see the people lifestyle and also exploring since there are an infinite number of souvenirs in their craft shops, gold and silver jewelry in an excellent price.

We´ll board the catamaran at 4:00 pm to sail back to Cancun. On the way back you can be part of our amazing party, furthermore, you can ride the "Spinnaker" for free (Depending on weather conditions). Finally, our adventure ends up at 5:00 pm arriving to Cancun.
Itinerary
The times depend on the weather and number of people.
9:30 a.m. Appointment for check in
10:00 am Departure to Isla Mujeres
10:50 a.m. Arrival to the coral reef "El Farito" for snorkeling (1 hour approximately)
1:00 pm Arrival to our Beach Club for a delicious buffet lunch, shopping time and pictures at Isla Mujeres.
4:00 pm Board the catamaran to return to Cancun.
5:15 pm Arrival to Cancun (approximately)


Recomendations:


Comfortable clothes and shoes
Swimming suite
Towels
Hat
Camera
Sunblock
 

 

Tour Includes:


• National Open bar on board (orange juce, sodas, beer, tequila, rum and vodka)
• Tour to "El Farito" 
• Snorkeling equipment (fins, mask, life vest and snorkeling tube)
• Lunch buffet and no alcoholic drinks in our beach club restaurant
• Shopping Time
• "Spinnaker Fly" (weather permitting)
• Guides and host 

Not Includes:
• It is necessary to pay the Navy tax for the admission to the "Marine Park" $5 USD per person, and $8 USD in the dock. All people have to pay these two fees directly in the marina (even if you don´t snorkel): Total to pay $13.00 USD
• Tips for the ship´s crew

 




Departure Days:
Monday
Tuesday
Wednesday
Thursday
Friday
Saturday
Sunday


Departures:
9:30 am