TRAINER FOR A DAY (TFD) WITH TRANSOPRTATION
Simply Unforgettable...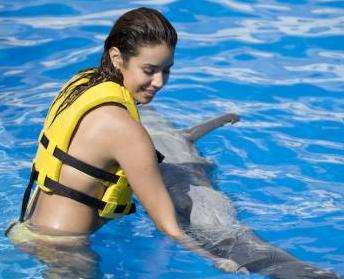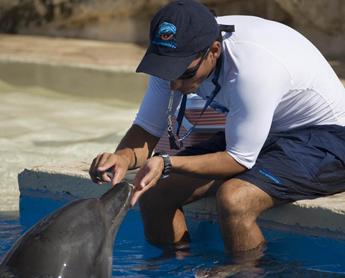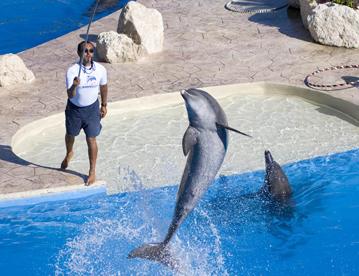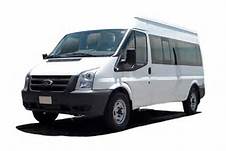 The experience that Dolphinaris Riviera Maya offers goes beyond just swimming with dolphins, it is as well a learning activity where you will run your fingertips along the sensitive skin of these citizens of the deep blue and will feel the power that hides beneath their gentleness. Dolphinaris Riviera Maya offers a variety of dolphin swimming programs that vary in duration, catering to people of all ages from young children to the mature adult.

With no waves and no strong currents, Dolphinaris Riviera Maya´s controlled and stable atmosphere guarantees a non-stop service that will provide visitors with a wonderful experience regardless of the weather conditions. Including the transportation from your hotel to de aquarium

Participants will enjoy a variety of different sessions throughout the program, during which they'll get to know the basic principles of operant conditioning using a fun "training game". This program allows the participants to give signals to the dolphins so that they will perform various tricks, all while supervised by an experienced trainer.

The day also includes a "Dolphin Dive Experience", in which the participant can observe the behavior of these marine mammals underwater. There will also be an information session specially designed for this program, including topics such as:

Life Support Systems.
Fish House and Wash Room.
Laboratory.
the trainers´ office and a 30-minute course on dolphin training with practical exercises.
Afterwards, participants will enjoy a "Dolphin Swim Program", where they´ll receive a kiss and a handshake from a dolphin, along with a foot-push or a dorsal ride

Program Duration: 7 Hours 20 Min. (9:00 am - 4:20 pm).

Dolphin Time: 1 Hour.




Recomendations:

Light sportswear
Comfortable shoes
Hat
Camera
Biodegradable sunblock


Tour Includes:

75 minutes of training sessions
20 minutes of underwater swimming in the "Dolphin Dive Experience"
40 minutes of the "Dolphin Swim Program"
A tee-shirt, two photos (group and dolphin) and a "Trainer for a Day" diploma
Lunch with the trainers in their dining hall
Round trip transportation from your hotel to the Park is included

Restrictions:

Participants must be at least four feet tall and know how to swim.
Children under four feet tall taking part in the DIP must be accompanied by a participating adult.
These programs are not permitted for pregnant women or for people experiencing heart or back problems.
Cameras and objects such as jewelry are not permitted in the water or in the swimming areas.

Important:

Lockers, DVDs, photos, and souvenirs are available at an extra charge.
Use of life vests is included.



Departure Days:
Monday
Tuesday
Wednesday
Thursday
Friday
Saturday
Sunday


Departures:
9:30 am