ROYAL GARRAFON VIP IN ISLA MUJERES + ROYAL DOLPHIN SWIM
For Royalty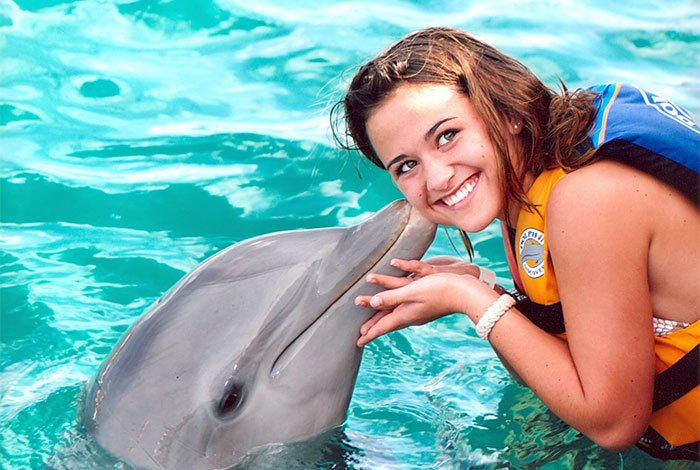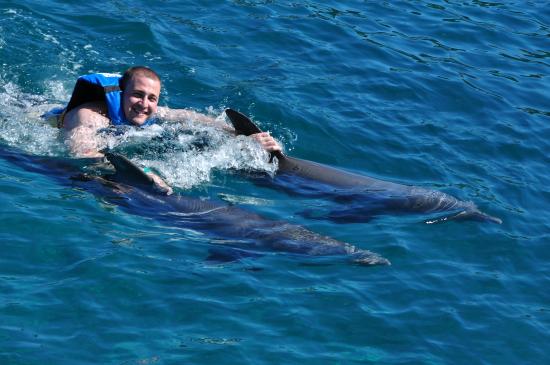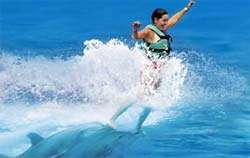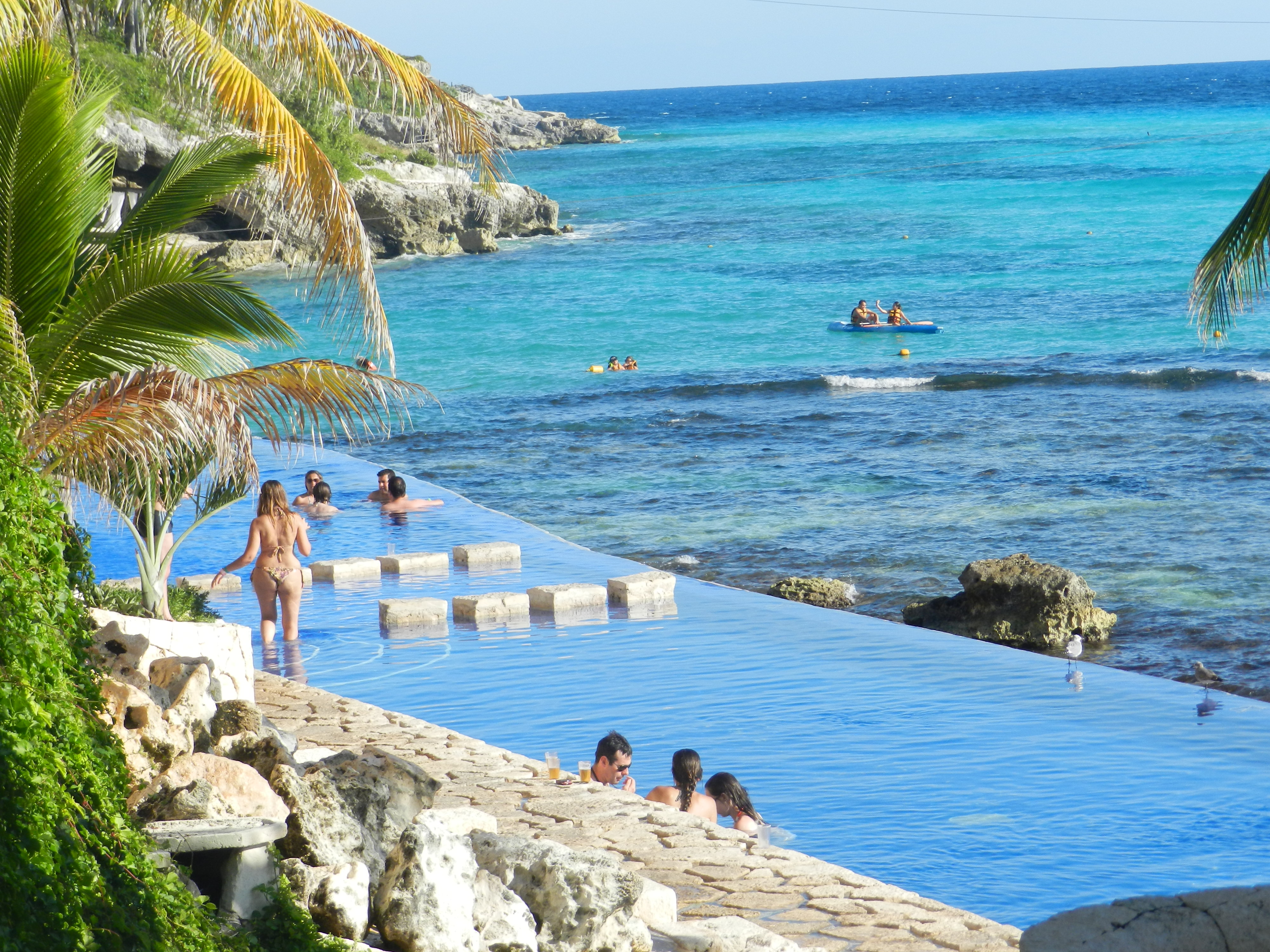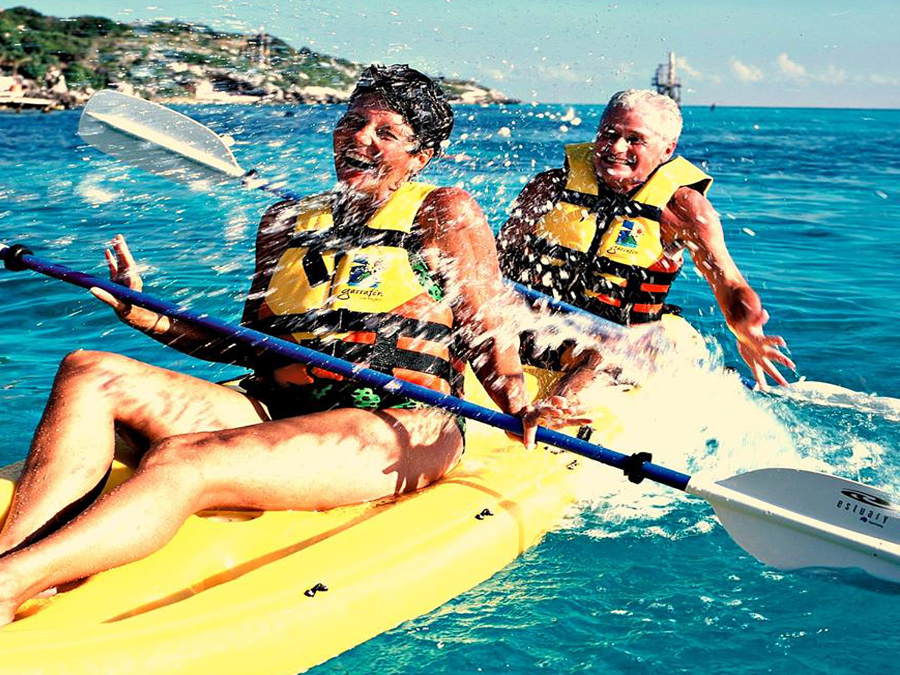 Set in one of the Mexican Caribbean's gorgeous island, Dolphin Discovery Isla Mujeres and Garrafon Reef Park are the perfect combination for any daytrip.

We depart from the Cancun pier (near your hotel) in a comfortable boat to cross to Isla Mujeres (35 minutes boat ride) Arriving to the Dolphinarium the will guide will take you to the Dolphin Royal Swim program, in here, you and your family will have the opportunity to receive all the affection from dolphins, these tender animals that always seem to smile. In this swim with dolphins, program your kids will be able to enjoy safe and fun activities has specially designed for all ages
Our most dynamic program, the Dolphin Royal Swim, includes the famous foot push, where your new friend will swim under you and push you up the water surface by your feet. This interactive dolphin program also includes the dorsal tow, where two dolphins will pull you while you hold on to their dorsal fins. While you're there, the friendly dolphin will give you a handshake, hugs, and kisses and warmly welcome you into their home: Cancun, Mexico.
After your incredible Dolphin Royal Swim program you will be able to enjoy Garrafon Reef Park at Isla Mujeres, known for its natural beauty and incredible outdoor activities. This amazing ecopark has something for all family members: kayaking, biking, hiking, flying on a zip-line. Come and experience all that Garrafon Reef Park has to offer and create amazing memories that will last a lifetime.

Garrafon Park is a special area in Isla Mujeres that combines ecology, nature, and adventure. Enjoy this tropical treasure that Cancun, Mexico boasts with so much pride through different aquatic activities such as snorkeling and kayaking. Indulge in moments of total relaxation and the best food while you take in the most spectacular views of the Caribbean Sea as you travel in Cancun. Take advantage of your free access to Garrafon Reef Park and enjoy this amazing Isla Mujeres trip.

Garrafon Reef Park is the pride and joy of Isla Mujeres—a park that combines relaxation with adventure all set upon the most spectacular views of the Mexican island. Imagine having the blue Caribbean Sea as your playground for the day. Enjoy snorkeling in the second largest barrier reef and be amazed by the abundant and colorful sea life that you can see. Feel the rush of flying across the Mexican Caribbean in the only zip line that crosses the ocean. After all your activities, recuperate your energy with a delicious buffet lunch. Grab your favorite drink and have a seat in one of the lounge chairs or hammocks and take in the most beautiful blues you've ever seen.
Isla Mujeres is where the perfect location meets your unforgettable vacation. Come and enjoy!
Schedule: Garrafon is open every day from 9:00 am to 5:00 pm.


Heights
Adults (+4' 7"):
Kids (3' 11" – 4' 7")
* Kids must swim with a paying adult as a companion.


Behaviors:
Foot Push
Kiss
Hug
Dorsal Tow
Hand target (dolphin jumps towards your hands)
Jumping over bars
Dancing
Games with balls and other playing toys
Free Time with dolphins


Recomendations:

Light sportswear
Swimming suite
Towels
Comfortable shoes
Hat
Camera
Biodegradable sunblock

Remember to use biodegradable sunscreen to protect your skin, the environment and marine species.

Bring towels and cash for taxis, shopping, meals, etc.

Wearing safety vests during any water program is compulsory.


Note: If the infant measures less than 3.25 feet is free. Higher than this, pays as a normal child


Tour Includes:

15 min briefing and 50 min in the water with the dolphins
Round Trip by boat from Cancun - Isla Mujeres - Cancun
Continental breakfast
National open bar
Lunch buffet at Garrafón Reef Park.
This swim with dolphins program includes the famous foot push, dorsal tow, handshake, hugs and kisses.
Snorkel equipment, life jackets, kayaks, hammocks, pool, lockers and showers at Garrafón Park.
Fantasy Snorkel – Stingrays or sharks

Not Includes:

Photos of your experience with dolphins
Other activities in Cancun or Isla Mujeres
Meals and beverages at Dolphin Discovery Isla Mujeres (only available at Garrafón Park)



Departure Days:
Monday
Tuesday
Wednesday
Thursday
Friday
Saturday
Sunday


Departures:
7:30 am