GOLF COURSE AT MAYAN PALACE (MORNING TIME)
18 holes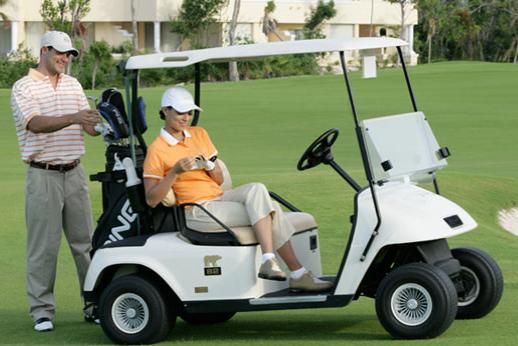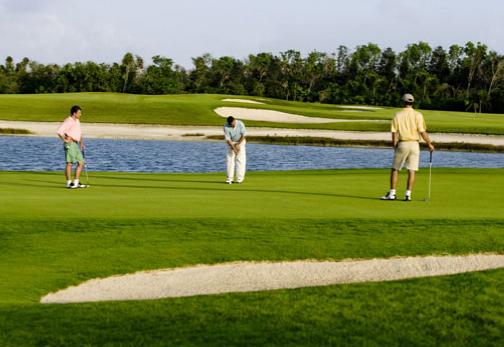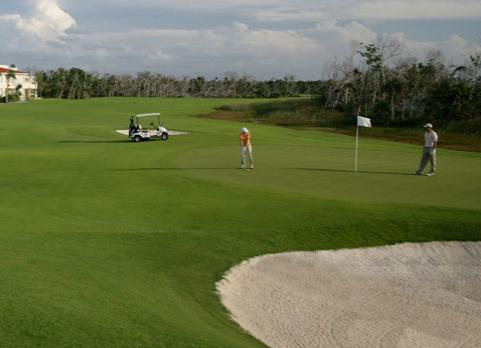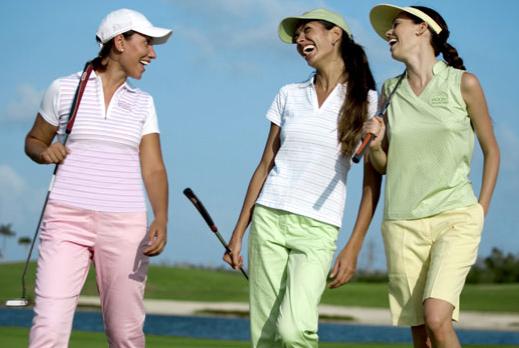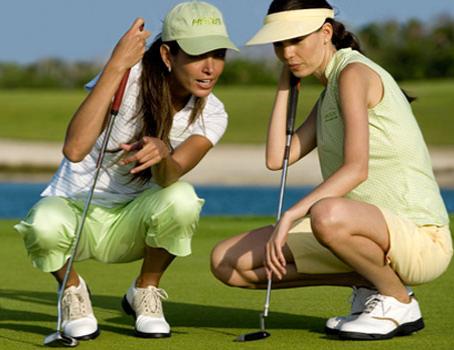 Our creative, innovative and avant-garde personality is reflected in the Executive Golf Course of the Mayan Palace Riviera Maya, Nicklaus Design.

Located between Cancun and Playa del Carmen, the 18-hole, par 54 golf course features traps of radiant, white sand, lakes surrounded by natural rocks and the intense color of the greens and the vegetation of the wastes.

The extraordinary natural landscape featuring lakes and native Mayan vegetation will constitute a great obstacle throughout 12 holes. The greens, constructed with a 1950's style that make them more complex, will complement this challenging golf course.

The 13th hole, with 276 yards, stands out by featuring an impressive green with a dune in the center, in which the golfers play against the wind most of the time.

Hole 17 is our signature hole - known as the Donna green – and it is characterized by two traps, one on each side. Additionally, there is one more trap right in the middle of the green, making it unique among other greens and further complicating the desired par.

The 195-yard hole 18 features a green built on an island-like area as well as an entry trap, where the player has the only option to target his shot at the green.

Delight yourself at the Snack Bar area, where you can enjoy tasty light meals or a refreshing beverage; also you can shop around the Boutique which offers the most exclusive golf items.
Departures:
- Daily

Schedules:
You can arrive at any time from early morning from 6:00 am until 2:00 pm to stay until the golf course closes
Additional Info:
- Soft spikes
- Golf equipment per player required
- No jeans allowed
- Polo shirts required

Opening year: September 2003
Designer: Nicklaus Design
Touring Pro: Esteban Toledo
Holes: 18
Par: 54
Yards: 2923
Course type: Flat executive
Grass on greens: Tifward
Grass on fairways: Bermuda 419
SPECIAL PROMOTION FOR LOW SEASON:
Rent of equipment and shooting practice is free !!!
Not Included in price
- Golf shoes
- Drinks
- Meals
- Caddy


Recomendations:


What to bring
- Light clothes (Polo shirt)
- Hat or cap
- Golf shoes




Tour Includes:


- Transportation Hotel-Course-Hotel
- Green Fee
- Shared cart




Departure Days:
Monday
Tuesday
Wednesday
Thursday
Friday
Saturday
Sunday


Departures:
6:00 am