JEEP SAFARI SIAN KAAN
This is paradise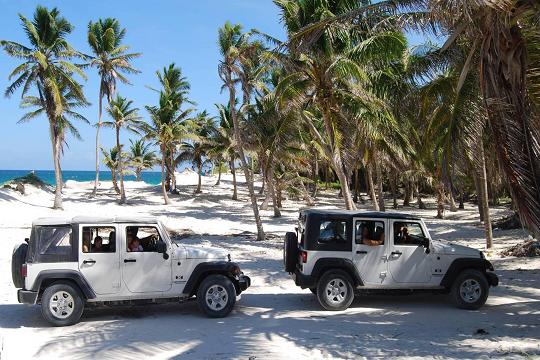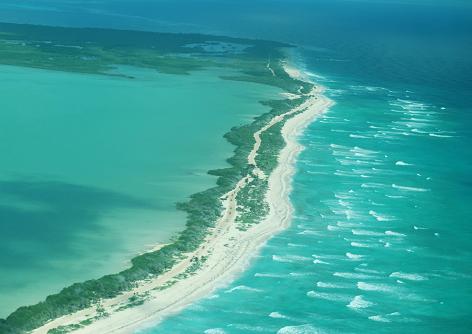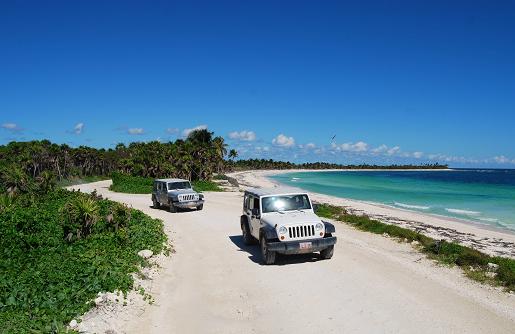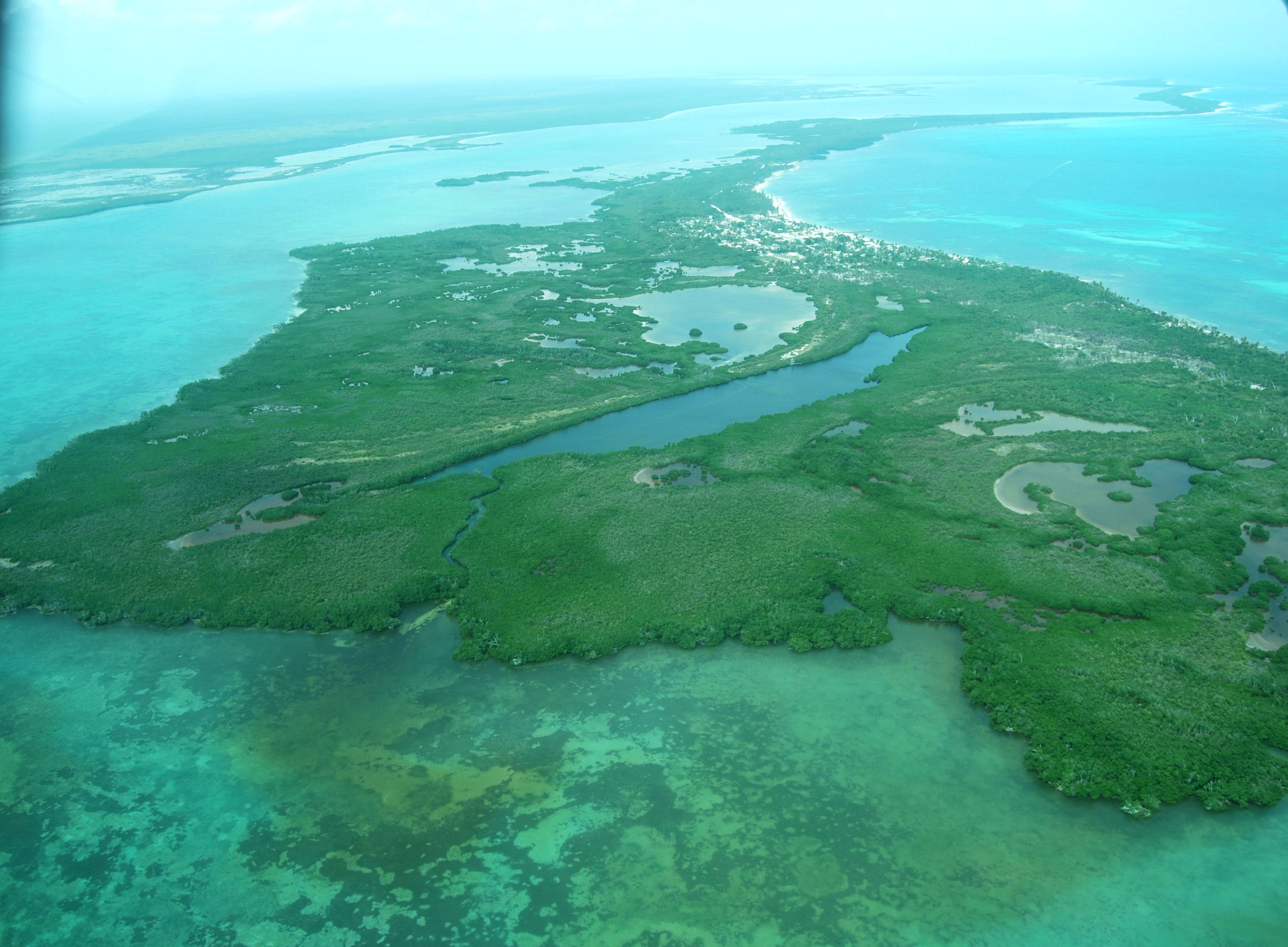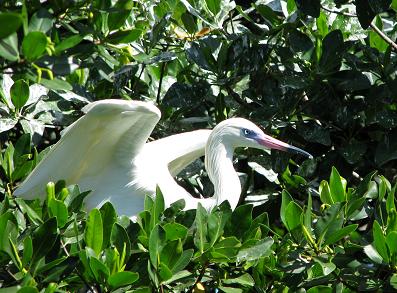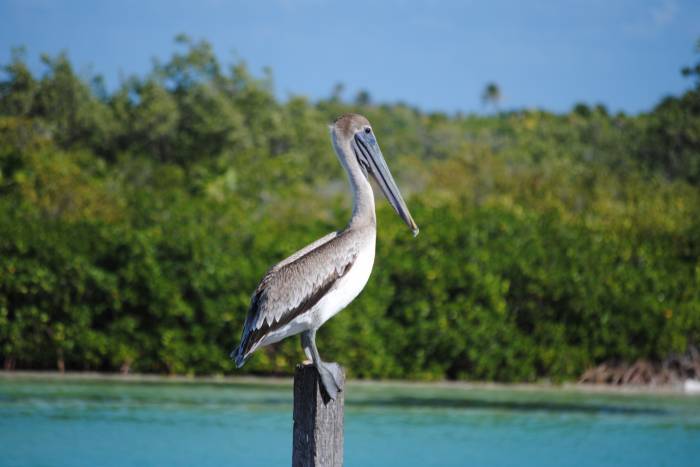 Sian Ka'an, in Mayan means "Where the sky is born", it is a biosphere situated in the south of the Yucatan Peninsula, which was declared by the UNESCO as a "World Heritage Site" in 1987. It is a very large area which shelters hundreds of different living species, some of them are in danger of extinction. Our tour develops in total harmony with nature, respecting the protected species that wander around the area, on their own natural habitat.

Drive around the coast of the biosphere in a Jeep Patriot where you will watch beautiful landscaping of jungle and ocean. When we get to the small fishers' town of Punta Allen, we'll take you to our beach restaurant for soft drinks and a snack. We'll hop on a fisher's boat to sail around the biosphere, first, going through the mangroves into the Black Lagoon, home of hundreds of different bird and fish species. The Black Lagoon connects with the Caribbean Sea, where we will sail in its blue and turquoise colors looking for sea stars, turtles and dolphins, in order to watch them on their wild state on their own habitat.

In the Biosphere of Sian Ka'an we will find part of the second largest coral reef in the world, so we'll head out to it and snorkel through its colorful corals and watch the ecosystem that lives there. After snorkeling, we'll move to the most beautiful place of the area, the astonishing natural pool of Blanquizal, where you will be able to relax in the crystalline waters surrounded by the most beautiful virgin beaches. This makes the end of the boat ride, so we go back to Punta Allen, to our beach restaurant where we will take lunch.

A vast Mexican style buffet will be waiting for you. From there, we will take the Jeeps back home to Tulum through the landscaping roads, watching the sunset. Come and discover Sian Ka'an, we'll make sure you'll have an unforgettable journey.




Recomendations:

Light sportswear
Swimming suite
Towels
Comfortable shoes
Hat
Camera
Biodegradable sunblock


Tour Includes:

pick up van transportation from Riviera Maya Hotels to the Jeep station at Tulum.
Capacity of van: 14 Passengers
The caravan goes on board of a Jeep Patriot from Tulum to Punta Allen.
Capacity of Jeep: 4 and 5 Passengers. Length of ride: 120 Minutes.
Snack at the beach Restaurant that includes soft drinks and water.
Boat trip sailed by its own Capitan who is member of the fishermen Punta Allen's Cooperative.
Capacity on each boat: 6 passengers.

During the Boat Ride, we will visit four ecosystems:

Black Lagoon And Mangroves (Birds, Reptiles, Mollusks)
Caribbean Sea (Dolphins, Turtles, Starfish)
Coral Reef (Snorkel With Equipment)
Blanquizal (Natural Pool).
Snorkelling included the equipment necessary to do it.
Back to Punta Allen the buffet lunch at the beach Restaurant is waiting for us.
Fish, chicken fajitas, steak, pasta, steam vegetables, beans, rice, vegetarian tacos, nachos, guacamole, salads, hot sauce, tortillas and fresh beverages.

Also Included:

Guide in any of the following languages: spanish, english, german, italian, french, dutch and russian.
Vehicle insurance.
Boat insurance.
Passengers insurance.
Duration of tour: coming out from Tulum at 8:00 am, coming back at 6:00 pm aprox.

Note:

Drinks with alcohol are not included in this tour.

Biosfera de Sian Ka'an Tax Fee is not included:

Price $3 usd.


Departure Days:
Monday
Tuesday
Wednesday
Thursday
Friday
Saturday
Sunday


Departures:
7:30 am