More than 70 artists on stage in a exceptional show depiciting the culture, traditons and roots of Mexico, will take you on a 80 minute jouney with live music, dances and songs with the best of the original Mexican folklore.
A mosaic of lights, sound and color at the best and most modern theater in Cancún.

The National Folkloric Ballet of Mexico was founded in May 1960 by a young and talented Ballerina, Silvia Lozano, who has been until the present date both Artistic Director and Choreographer of the world acclaimed Ballet.
Throughout the first fourty years of its existence, the National Folkloric Ballet of Mexico, has relied on its collaboration with the most prominent reserchers and experts of Mexican Folklore, dance, music and traditional costumes throughout the different regions of the Mexican Republic. In 1977, the National Folkloric Ballet of Mexico, was named as the Official Company of the Mexican Government, representing the Country since that time domestically as well as abroad. In its extensive career, the National Folkloric Ballet of Mexico, has performed in more than 30 countries over the five's Continents, receiving numerous awards as well as acknowledgments, and as such is recognized as being one of the leading ambassadors of Mexican Culture


Shows from Monday to Friday and starts at 7:00 pm. and it finishes at 8:30 pm.

Reservartion requested !!!
Pre-hispanic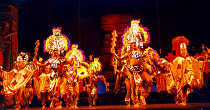 The representation of this Dance that we see here summarizes different moments of a very complex ritual in which the Aztecs, the founders and settlers of Ancient Mexico (Tenochtitlan) honored the different elements of nature

Yucatan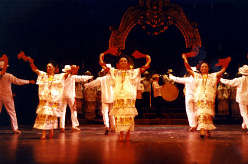 In the south eastern part of Mexico we find a beatiful example of the prosperity and abundance of life the countryside. We refer specifically to the "Vaquerias", which are the festivities of the ranchers, their wives and all of the inhabitants of the villagers or hamlets.
Sonora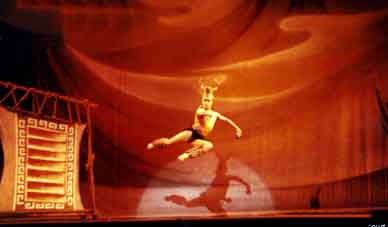 El Venado, animal sagrado de las tribus Yaquis y de los Mayos. En este cuadro se representa la lucha del bien contra el mal en una contradictoria confusión de sentimientos y complejo amalgamiento de personas, tal como sucede en la mitologia indígena.

Jalisco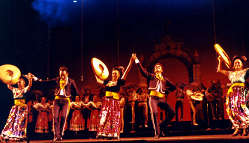 On its own merits the folklore of Jalisco has been transformed into one of the national symbols for excellence. The dances and sounds of this state reached the maturity of its own development in the final decades of the last century